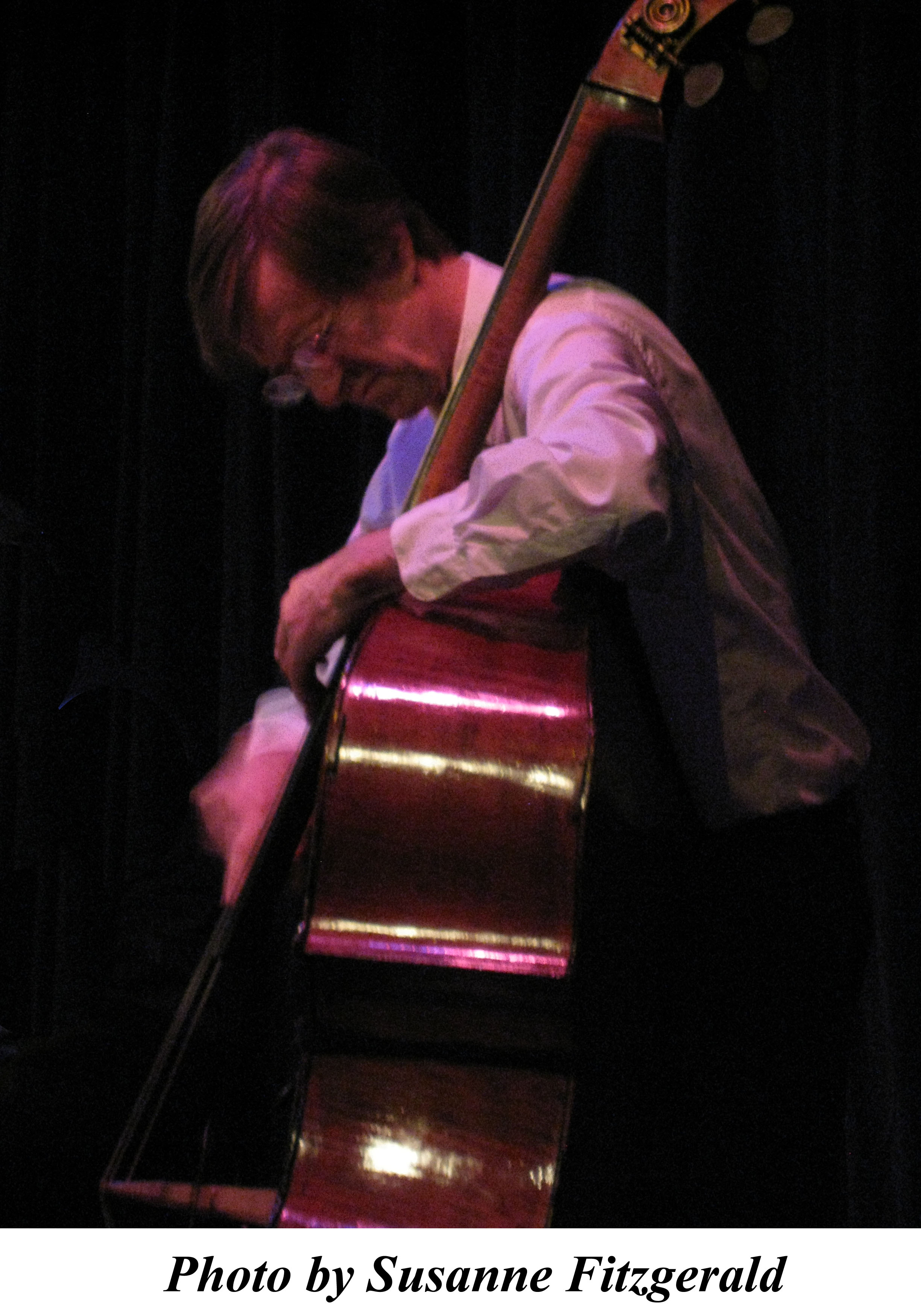 PETER C. MATTHEWS
Phone: 540-463-5299 (463-JAZZ)
email: Pete4bass

aol.com

Peter Matthews is a British bassist, guitarist, composer, music educator and journalist, who currently resides in Lexington, VA. Born in Wimbledon, London, in 1947, Mr. Matthews has a BA in Psychology (Sheffield, UK, 1970) and has been a professional bass player since 1972.

This Is Now... Mr. Matthews came to New York in 1993 for an MA in Jazz Performance (CCNY, 1995), to study bass with Distinguished Professor Ron Carter (mid-1960s Miles Davis Quintet). In 1996 he entered the PhD Ethnomusicology program at CUNY Graduate Center. In 2005 Mr. Matthews put his PhD thesis on hold and relocated from NYC to Lexington, VA. In September 2005 he played bass with the Roanoke Symphony Orchestra for a Hurricane Katrina benefit, and later that year he became a member of the Rockbridge Symphony. Mr. Matthews soon began to play bass at jazz venues within a 100-mile radius of Lexington, and he has also performed on a regular basis at the Greenbrier and Homestead resorts, and the Hotel Roanoke. In 2008 Mr. Matthews joined the teaching studio of Staunton Music as an instructor for guitar and bass (electric and acoustic): he now has 25 students, ranging in age from 6 to 60.

...and That Was Then: After childhood classical piano lessons, Mr. Matthews taught himself to play guitar. Inspired by American blues and R&B covers by the Beatles and Rolling Stones, he formed a high school band. In the late 1960s he attended Sheffield University and played in a college blues band that opened for concerts by Fleetwood Mac, Family, and the Moody Blues.

After graduating college in 1970, for two decades Mr. Matthews combined professional activities in journalism and music. Mr. Matthews' first job in London was as a music journalist. He worked as both copy editor and feature writer for publications including Rolling Stone, Melody Maker, Time Out London, TV Times and BBC Radio Times - for whom he interviewed artists like Jack Bruce (Cream), Paul McCartney, Kris Kristofferson, Lee Ritenour, Ravi Shankar, and Frank Zappa.

In 1972 Mr. Matthews switched from guitar to electric bass, joined a professional rock band and went on the road. In 1973 he toured the US with Japanese percussionist Stomu Yamash'ta's Red Buddha Theatre (Greek Theater, Los Angeles, CA; Masonic Auditorium, San Francisco, CA; Brooklyn Academy of Music, NYC). Back in the UK, Mr. Matthews co-founded the rock band Stars, which recorded an eponymous LP for RCA in 1975 and supported its 1976 release with a UK tour and live appearance on BBCtv. After Stars broke up in 1977, he went freelance.

From 1979-1983 Mr. Matthews lived in the Canary Islands (Spain), where he played disco, salsa and fusion music, and also began to play swing jazz as a sideman with the quartet and big band of the Berklee (US)-trained Argentinean pianist, Luis Vecchio. Back in London, Mr. Matthews bought his first upright bass in 1984 and it soon became his first-call instrument.

In 1993 Mr. Matthews came to Manhattan to enroll in the City College of New York's MA program in Jazz Performance. He studied acoustic bass with Distinguished Professor Ron Carter (bassist with the mid-60s Miles Davis Quintet). Mr. Matthews graduated from CCNY in 1995: his graduation concert program presented original compositions, arranged for quintet and octet. From 1996-2005 Mr. Matthews was enrolled, and then accepted as a PhD candidate, in the Ethnomusicology program of the Graduate Center, CUNY (status: ABD - All But Dissertation - "Time, No Changes?": How Bassists Adapted to the Rise of Modal Jazz and Jazz-Rock, 1958-73 ). After MA graduation in 1995, Mr. Matthews taught CCNY undergraduate music survey courses, and later also taught at Marymount Manhattan College and Mercy College. From 1998-2004 he was an Adjunct Lecturer on the faculty of the Art, Music & Philosophy Department of John Jay College of Criminal Justice, CUNY, teaching courses on Western Music History, World Music Cultures, and Popular Music in the USA from 1840-2000 (minstrelsy to rap, via jazz & rock)."


---